Hurricane Sandy Impacts 24 States: Map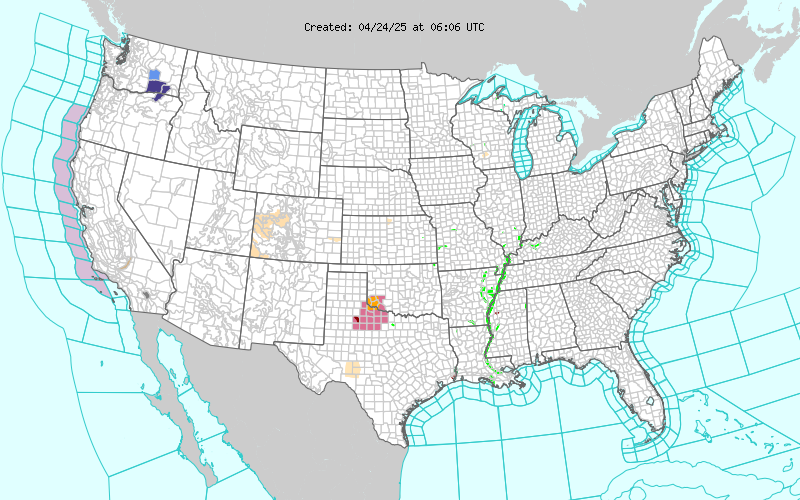 Frightening NWS Sandy Update Map: 5 Day Projection

~~~~~~~~~~~~~~~~~~~~~~~~~~~~~~~~~~~~~~~~~~~~~~~~~~~~~~~~~~~~~

Water Pours into Hoboken Path Station: Don't need to say much about this security camera. It's going to be quite a cleanup.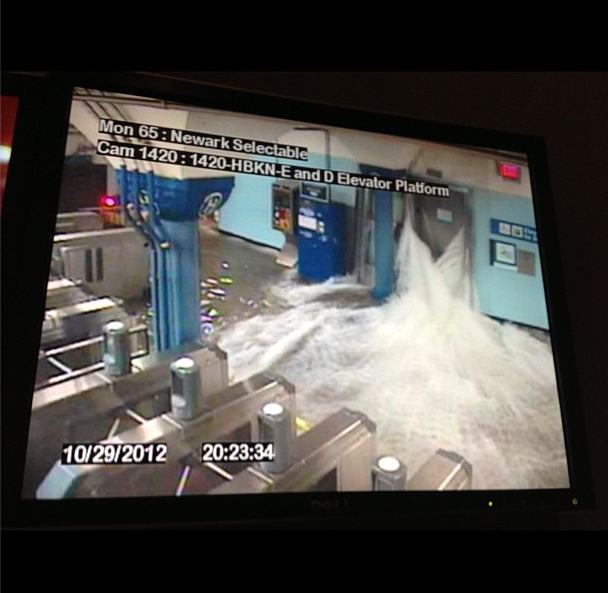 Sharks Swimming In NJ Now: I will admit, it is bad here! The wind has been non-stop and its' been raining quite heavily, too. Still, at least I don't have to look out my front door and see this!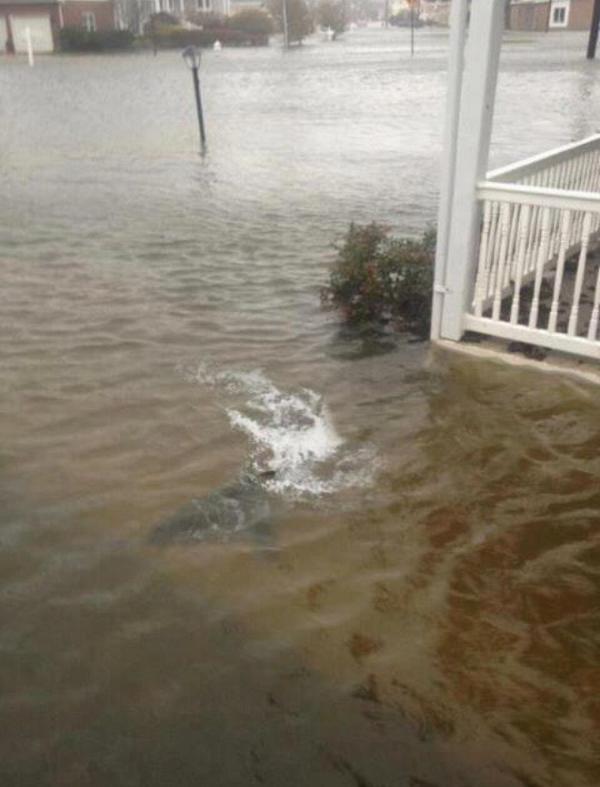 Lights out, Manhattan. Creepy. From promenade.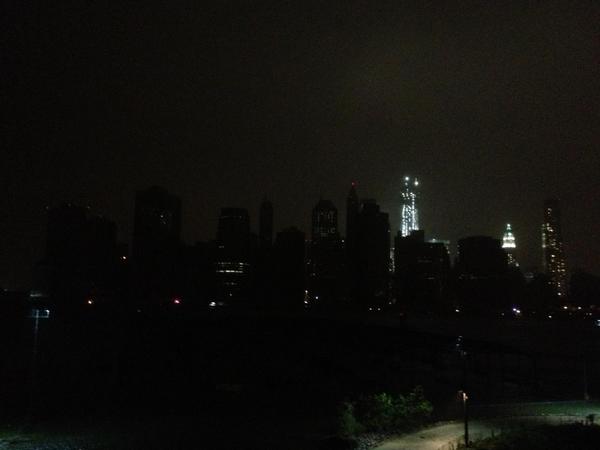 ~
~~~~~~~~~~~~~~~~~~~~
~~~~~~~~~~~~~~~~~~~~
~~~~~~~~~~~~~~~~~~~~
New York Subway Flooded
Superstorm Sandy slammed into the New Jersey coastline with 80 mph winds Monday night and hurled an unprecedented 13-foot surge of seawater at New York City, flooding its tunnels, subway stations and the electrical system that powers Wall Street. At least 13 U.S. deaths were blamed on the storm, which brought the presidential campaign to a halt a week before Election Day.
For New York City at least, Sandy was not the dayslong onslaught many had feared, and the wind and rain that sent water sloshing into Manhattan from three sides began dying down within hours.
Still, the power was out for hundreds of thousands of New Yorkers and an estimated 5.7 million people altogether across the East. And the full extent of the storm's damage across the region was unclear, and unlikely to be known until daybreak.
In addition, heavy rain and further flooding remain major threats over the next couple of days as the storm makes its way into Pennsylvania and up into New York State. Near midnight, the center of the storm was just outside Philadelphia, and its winds were down to 75 mph, just barely hurricane strength.
"It was nerve-racking for a while, before the storm hit. Everything was rattling," said Don Schweikert, who owns a bed-and-breakfast in Cape May, N.J., near where Sandy roared ashore. "I don't see anything wrong, but I won't see everything until morning."
As the storm closed in, it converged with a cold-weather system that turned it into a superstorm, a monstrous hybrid consisting not only of rain and high wind but snow in West Virginia and other mountainous areas inland.
~
~~~~~~~~~~~~~~~~~~~~
~~~~~~~~~~~~~~~~~~~~
~~~~~~~~~~~~~~~~~~~~

A huge explosion has been filmed at a power plant in downtown Manhattan after Hurricane Sandy made landfall.
~~~~~~~~~~~~~~~~~~~~~~~~~~~~~~~~~~~~~~~~~~~~~~~~~~~~~~~~~~~~~
Meteorologist: Sandy Is Manufactured
Alex Jones welcomes meteorologist and award winning television weatherman Scott Stevens to explain how it's possible that "Frankenstorm" Hurricane Sandy could be manipulated with military technology already at our disposal.
~
~~~~~~~~~~~~~~~~~~~~
~~~~~~~~~~~~~~~~~~~~
~~~~~~~~~~~~~~~~~~~~
Hurricane Sandy Sinks HMS Bounty, 2 Missing
The crew aboard the HMS Bounty 90 miles southeast of Hatteras N.C., in the Atlantic Ocean had to abandon ship, according to the U.S. Coast Guard. Fourteen members crew were rescued from open water early Monday, while a few still remain missing.
The Coast Guard's news release stated the life-jacket-wearing crew boarded two life boats among 18-foot seas with 40 mile per hour winds.
The Associated Press reported the crew being composed of 16 members, two of which remained missing. But the Facebook page for the ship says the crew included 17, meaning three would still be unaccounted for. The rescue took place at 6:30 a.m. Monday.