Sample helicorder seismic graph of LA15 HHZ YC in Bayou Corne, Louisiana, one area of four where long frequncy tremors began to be recorded Tuesday, Feb 26, 2013 in the Louisiana collapsing salt dome "sinkhole" vicinity. (Image Credit: University of Memphis)
As Louisiana's state of emergency nears seven months, on Wednesday, the state's Department of Natural Resources Office of Conservation began advising Assumption Parish officials and the public in the Bayou Corne area that the contracted CB&I and Itasca Group analysis of ongoing seismic monitoring has detected what once again appears to be an uptick in underground fluid movement below the sinkhole.
Tick, Tick, Tick Toward New National Sacrifice Zone
The undergound "fluid" appears to be moving in the vicinity of Texas Brine LLC's failed Oxy 3 cavern over the past 36 hours, according to officials.
The advisement was publicly issued and then relayed at 1:15 P.M. Wednesday by Assumption Parish officials.
"As noted in earlier similar events, the fluid movement appears to be linked to observations of trees falling into the sinkhole, release of trapped debris from the sinkhole bottom and increased odor from hydrocarbons released to surface," the state advised, according to the Assumption Parish post on its blog.
Along with the "tremors" Tuesday, small bubbling spots re-emerged in the salt dome "sinkhole" that prompted a State of Emergency declaration almost seven months ago.
Methane typically moves ahead of crude oil.
There are are over 40 reported methane bubbling sites in the area, in local bayous and swamps, where the dangerous gas percolates and threatens to ignite and explode.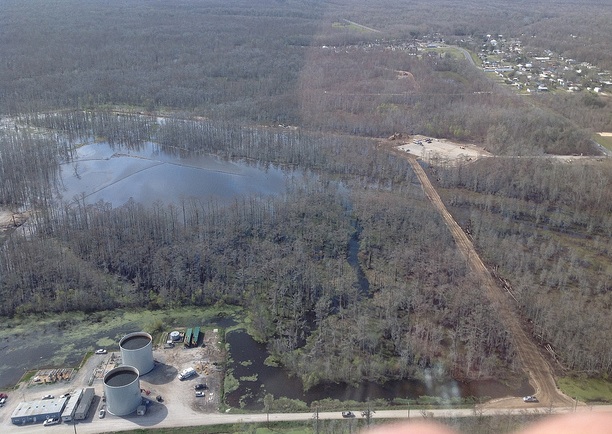 Most recent Louisiana "sinkhole" disaster flyover, Feb 20, 2013. (Photo Credit: Assumption Parish)
CB&I and Itasca Group analysts also advised Wednesday that, while the activity appears to represent no additional significant threat to the general area, operations directly on the sinkhole be suspended until subsurface activity slows again.
At that time, a Bayou Corne local Randy Rousseau said, "I don't feel comfortable here. I don't feel safe. I don't think this will get any better. The sooner I can get out of here, the better."
A worker told Dupré, under agreement of anonymity, that she goes to the area for meetings only and then, gets out as soon as she can.
Locals have repeatedly asked for national media attention and for Governor Jindal to respond more aggressively to the emergency.
Jindal, well funded by the oil and gas industry for his campaigns, has failed to visit the disaster site, as governors typically do when disasters in their states do.
'Mini-quakes' and 'Sharp Tremors'
At local briefings and at the hearing last week in Baton Rouge, scientists said the mini-quakes and "sinkhole" "burbs" link to movement of fluids or gas through a zone of fractured rock next to the 1-mile by 3-mile Napoleonville Salt Dome.
The scientists say that the sharp tremors are produced by movement of sedimentary rock migrating into Texas Brine's failed cavern.
Officials recently admitted about the explosive methane lurching in the area:
1) There is substantially more than 50,000,000 cubic feet of methane below surface near giant sinkhole.
2) The methane covers over 2 square miles.
3) There is enough methane there to do "very serious damage" and very rapidly, "if uncontrolled."
Many residents have chosen to remain, despite the near 7-month mandatory evacuation order. Some say that officials would warn them if an explosion was about to occur, so they'd have ample time to escape. Others say they need humanitarian assistance to leave, assistance that has not been forthcoming for all of the people in the methane danger zone.
The mantra of the era of oil and gas industry national sacrifice zones is, "Mutate, migrate or die."